The founding Board meeting of the Christian Universalist Association took place as planned on May 16-17, 2007 in Washington, D.C. It was a successful and blessed event! Read about what happened, about some of the participants, and the beautiful church in which the meeting was held.
Photos provided by Eric Stetson, at a couple of locations (see notes on photos), most significantly at Universalist Memorial National Church, from the founding meeting of the CUA.
---
Ordination of Susan Smith
Photo & note provided by Susan Smith
This is the picture of my ordination with the CUA in 2009 in Nashville. Hard to believe that was almost 13 years ago! Since that time I have strived to share the CUA message of God's unconditional love and inclusion when and where I can. I was ordained again by the United Church of Christ (UCC) in 2015 and today I continue to serve at Exodus Missionary Outreach Church in Hickory, NC where I have been for the past 25 years. Last fall Exodus Church formally became a UCC member church. I am deeply grateful to the CUA for giving me a place to express what I truly believe about God and the gospel!
---
The 2012 Annual CUA conference was held at Murray Grove Retreat Center in New Jersey. Stan Seidner was keynote speaker and presented by Skype and DVD projection.
Photos provided by Jamez Terry
---
Photos & note provided by Rick Lukasiewic
I just want to say that what attracted me to the Christen Universalist Association (CUA). To be succinct after going through some challenging moments in my life around 20-25 years ago and literally have a profound interaction with Christ (similar to Paul's experience on his way to Damascus) my Spirituality changed. As I was engaged in private counseling and exploring different spirituality's 2 questions arose in my mind.
First, "How can that which created the universe and all life be Whole in the end if anything is left Behind?
Secondly "How can an all Loving Energy watch what it Created writhe in Eternal Torment.
My Journey lead me to come upon the CUA, which answered those 2 questions. I joined the CUA and in 2012 became an Ordained Minster for the CUA. In that process I wrote a detailed paper as part of my ordination process Biblically showing and supporting that, all of Humanity/Life is united with God/comes back to the source that created everything in the end.
I am forever Grateful for people who started and currently maintain the CUA's existence.
---
The Forgotten Gospel Conference, by the Sanctuary Denver, was not an official CUA event, but the CUA was well represented.
Photos by Lance Haverkamp
---
Ordinations at the CUA Tenth Anniversary (2017) Conference in Ft. Worth, Texas
Photos provided by Lance Haverkamp
---
Ordination of Peter Stilla (2018)
Photos & note provided by Peter Stilla
Happy 15th birthday, Christian Universalist Association, and congratulations too! For an adolescent, your development has been nothing short of remarkable. It is gratifying to see how much the CUA has grown in membership, ordained ministers, and affiliated churches in just 15 years. It also seems as if there has been a corresponding growth of Universalism in general during this time, as if the rise of the CUA has carried other Universalist ministries and groups along with it. Universalism is more prominent in the religious arena than ever, and I believe the CUA has had a lot to do with that. It's a good thing too, because the need for a thriving, robust Christian Universalism has never been greater.
Personally, I take as much pride in being an ordained CUA minister as anything else I've ever done. As Christianity has entered its 21st century, its Universalist wing has never been more vital and important. The role we play in spreading the Universalist gospel will shape the future of our faith for generations to come.
For these and many other reasons, the day of my ordination in April 2018, as seen in these photos, will always be a source of joy for me. I knew that I was being accepted into a movement that serves God, humanity, and our shared divine purpose unlike any other. So, happy birthday CUA, and let's keep up the good work!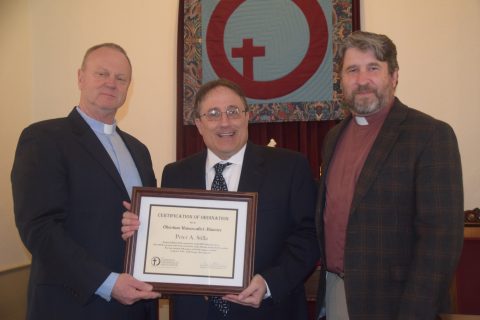 ---
The Sanctuary Denver, held another conference in 2019, where the CUA members were actively involved
Photos provided by Lance Haverkamp